Speaking of military command vehicles, it is understood from the literal meaning that a command vehicle for military use is a command vehicle. Since it is a command vehicle, it is superior to ordinary military vehicles both in terms of level and performance. Indeed, military command vehicles are more optimized than ordinary military vehicles.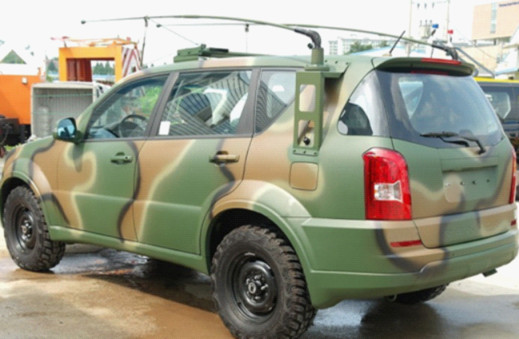 As shown in the above figure, the military command vehicle has a camouflage uniform-like appearance, whether it is a camouflage military uniform or a camouflaged military vehicle. Its exterior design is very powerful. Its distinctive features such as a high chassis, a huge, square body, tough lines, and military green paint are all signals that this is an out-and-out military vehicle. It is enough to shake the enemy on the battlefield. As a military vehicle, the military command vehicle can be used as a combat commander, a material transporter, or a soldier's passenger carrier. As a civilian vehicle, it can be widely used in public security, forest firefighting, and other special vehicles. It can also be used for wild adventures.
Most of the military command vehicle interiors are based on practical concepts, mainly functional, abandoning the traditional pursuit of luxury, but in spite of this, the interior parts installation process can still reflect the profound building skills. In addition to common instruments, there are also many multi-purpose special instruments for military vehicles, such as voltmeters, spirit levelers, altimeters, and directional instruments. The lights of the vehicles have also been added with anti-aircraft lights in accordance with relevant national and military standards.
In the fuel supply system, military command vehicles are also different from civilian vehicles. For example, the Beiqi Warriors use original metal main and auxiliary fuel tanks to meet long-distance safe driving requirements. The main fuel tank capacity is 85 liters and the auxiliary fuel tank capacity is 18 liters. , And are protected with a reinforced stand to ensure that fuel will not leak under extreme conditions. The main fuel tank and the auxiliary fuel tank are added together, and the vehicle can have a driving range of more than 1,000 kilometers, which is twice that of a general off-road vehicle. There are two tow hooks on the front of the BAIC Warrior and an optional electric winch. When the vehicle is caught in muddy ground and other harsh conditions, it can use the winch to achieve self-rescue and mutual rescue.
With these high-tech equipment, the Warriors can bravely fight on the battlefield, bravely defeat the enemy and promote the morale of our army.
Incoloy Butt weld Pipe Fittings
ANSI B16.9 / B16.28 Incoloy Pipe Fittings, Incoloy 800/h/ht Seamless & Welded Pipe Fittings, Incoloy UNS N08800, N08810, N08811, N08825 Butt weld Fittings, Elbow, Tee, Reducer, Bends, Incoloy 825 Pipe Caps, Cross
Incoloy Butt weld Pipe Fittings Specification:
Grade : Incoloy 800 (UNS N08800), Incoloy 800H/HT (UNS N08810), Incoloy 825 (UNS N08825)
Standard : ASTM B366 / ASME SB366
Dimensions : ANSI/ASME B16.9, B16.28, MSS-SP-43
Size : Seamless 1/2″ – 10″, Welded 1/2″ – 48″
Form : Elbow, Long Radius Elbow, Short Radius Elbow, 90 Deg Elbow, 45 Deg Elbow, 180 Deg Elbows, 1D Elbow, 3D Elbow, 5D Elbow, Tee, Equal Tee, Unequal/Reducing Tee, Reducer, Concentric and Eccentric Reducer, End Cap / Pipe Cap, Stubend, Long & Short Stubend, Swage Nipple, Barrel Nipple, Reducing Nipple, Bend, Long Radius Bends, Piggable Bend, Equal & Unequal Cross.
Thickness : Sch 5s, Sch 10s, Sch 40s, Sch 80s, Sch 160s, Sch XXS
Incoloy Fittings,Incoloy Fitting,Incoloy Pipe Fittings,Incoloy Tube Fittings
Zhejiang Max Stainless Steel Co.,Ltd , https://www.cnstainlesstube.com